ROOM OVERVIEW
Standard Single Rooms
Standard single room with private shower and shared toilets
£84 per night
Standard single room with shared bathroom
£69 or £71 per night
Club Membership is £2 per person and lasts for a year
Each one with its own character, our four single rooms that are located on first floor of the building, have a splendid view over the garden. With windows facing south east the sun will greet good morning with its beams.
Our standard single rooms are named after some of the greatest artists in art history. Each had their own unique style; Leonardo da Vinci, the High-renaissance master that painted in precise details and depth and John Constable, the English romantic that painted atmospheric and memorable landscape pictures. We also have the early-renaissance painter Botticelli, known for his iconic soft figural style and last but not least the genius and post-impressionist, Vincent van Gogh.
Two of our standard single rooms come with private shower facilities but toilets are shared. Bathrooms and shower-room are located on the corridor and kept immaculately clean.
Please note before booking that our single rooms are located on the first floor with no lift facilities.
ROOM OVERVIEW
Small Single Room
Small single room with shared bathroom (not available between May – December 2023)
£59 per night
Club Membership is £2 per person and lasts for a year
Our special small single room is located on the west side of the building and named after August Macke, a remarkably accomplished and influential painter despite his short life. The room is small and comfortable and overlooking the courtyard. The room has shared bathroom that are located just around the corridor.
Accessibility: Because of the historical nature of the building it is not possible to install lifts and so the bedrooms, which are all on the first and second floors are not accessible with a wheelchair.
Please note: We have a policy of not accommodation children under age of 12. This policy is only in place as the rooms in our historically listed building are acoustically sensitive to loud noise.
ON TEMPLE LODGE CLUB
Organic Breakfast
Bed and breakfast guests can enjoy their morning tea or coffee and the hearty affair from the breakfast buffet in a relaxed and warming atmosphere. In the breakfast room, there are three large antique windows looking out to the garden, bringing brightness and sunshine into the room and peace to the mind.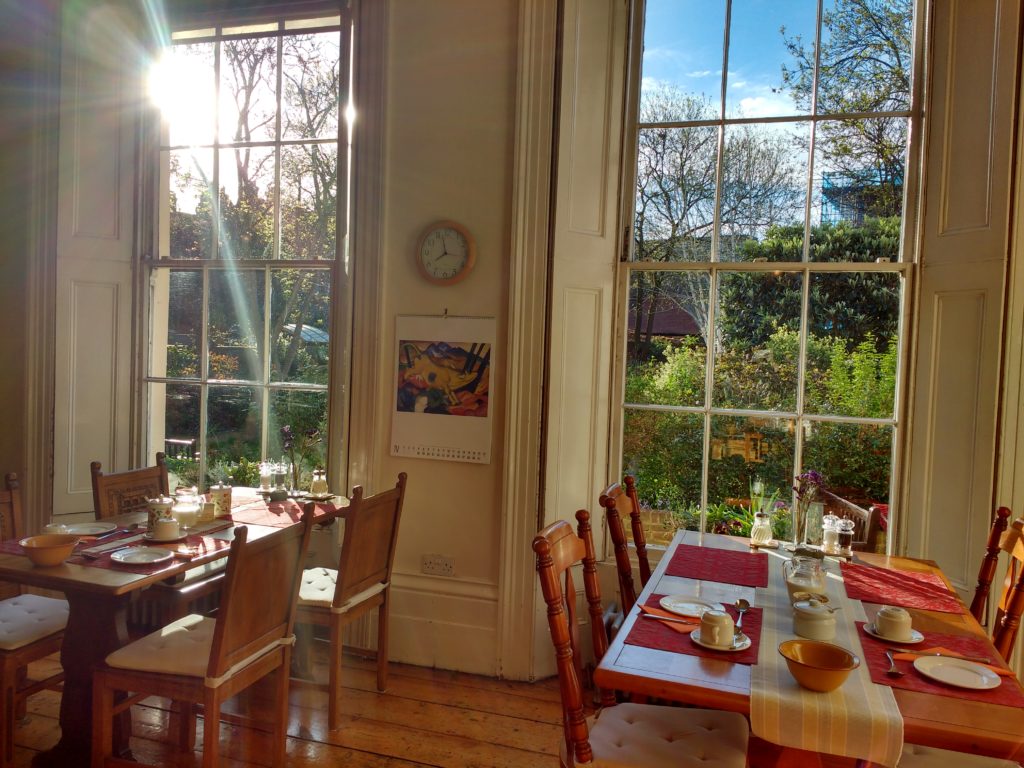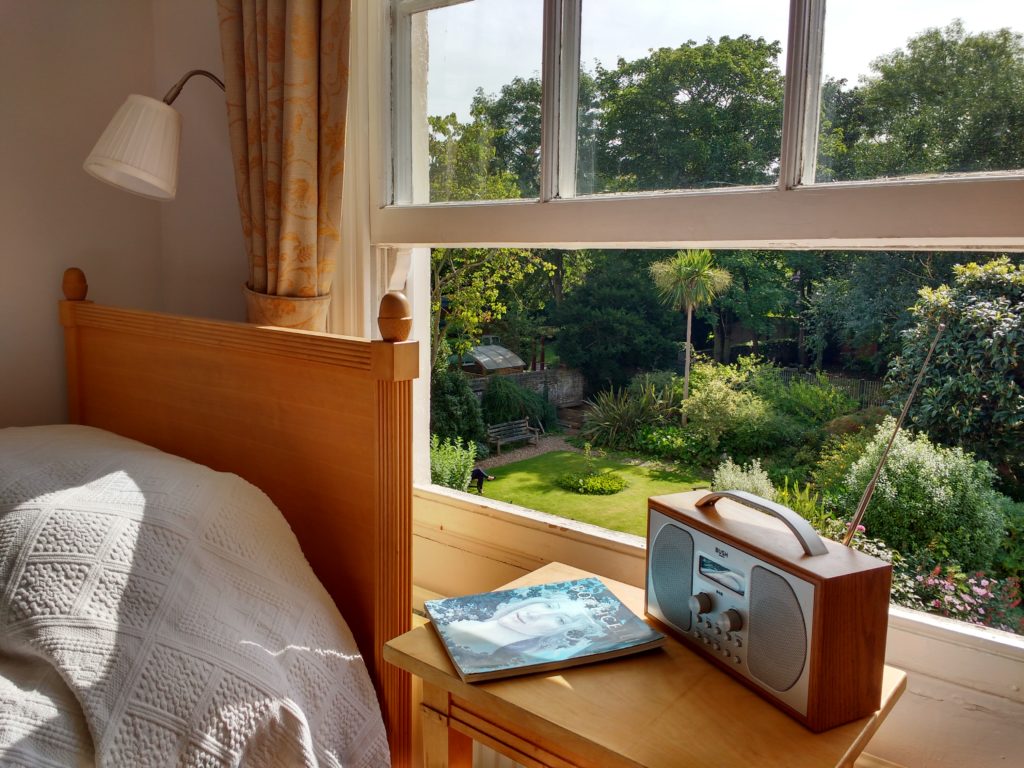 OUTDOOR PATIO
Amazing Views
The ever changing garden throughout the seasons hides many treasures. Its special romantic character expresses itself in its imperfect glory. Flowers, roses, palm tree, silver birches and all kind of wilderness grow in harmony and bees, squirrels, birds and curious cats are frequent visitors in the garden, enjoying the peace just like our bed and breakfast guests.
The garden has been very generous to us. In autumn apples fall off the apple tree and its delicious apples are served for breakfast. Over the summer the seasonal flowers are used for decoration inside the house.
BEST B&B SERVICES FROM TEMPLE LODGE CLUB
Rooms Accessories
100% Natural Fibre Bed Linen

100% Feather and Down Duvets
(synthetic fillings can be provided on request)

Complimentary Tea and Coffee

A Selection of Confectionery-
(Juices, Water and Snack for sale)

Selection of Bedtime Reading

Washbasin with hot and cold water
Room Facilities
Non-Smoking throughout the House

Toilets, Baths and Showers on every Corridor

A Wash-Basin with Hot and Cold Water

Iron & Ironing Board on request

Access to our Beautiful Garden

Access to our Open Kitchen
Check – in/out -Timings
Check In
Check in times are from 2.00 pm – 9.00 pm. 

Our reception is closed in the afternoon over the weekend. Saturday and Sunday luggage can be left and keys taken before 12 pm.  Evening check-in times are between 5 and 9 pm.

Check Out
The check out time is by 10:30 am.
We need guests to have left the rooms by 10:30 but club members of Temple Lodge are welcome to rest longer at the open spaces of the house premises until departure. You are also welcome to use our Beautiful Garden and Library.

Luggage storage
We are happy to keep your luggage on the day of departure after you have checked out.